Dekang Strawberry Mint E-Liquid | 10mL
Rating:
( 2 product reviews )
Availability:
Ships same day if order placed before 2:00 P.M. EST (except Sundays and Holidays)
---
Product Description
Dekang Strawberry Mint Flavor E-Liquid | E-Juice
10mL or about 200 drops

Available in 50/50 PG/VG Blend, 80/20 PG/VG Blend, 20/80 PG/VG Blend

Choose from No Nicotine (0mg), Ultra Low (6mg), Low (11mg), Med (16mg) & High

(24mg) Nicotine Strength



Buy this flavor in Bulk and Save | Buy 3 or 4 bottles for $4.29 each | Buy 5 or more bottles for $3.59 each
IMPORTANT NOTE: WE HAVE NOW CARRY THIS FLAVOR IN 24MG NICOTINE STRENGTH AND WE HAVE MADE A CHANGE TO THE NAMES OF OUR NICOTINE LEVELS. PLEASE NOTE THE FOLLOWING.
ULTRA LOW = 6MG

LOW = 11MG

MED = 16MG

HIGH = 24MG
ALSO VERY IMPORTANT! OUR NEW BATCH AND SHIPMENT OF E-LIQUIDS HAVE A NEWLY DESIGNED LABEL THAT HAS THE ACTUAL PRINTED 'MG' CONTENT ON THE LABEL HOWEVER, OUR OLDER STYLE LABELS ONLY LIST THE NICOTINE LEVEL AS EITHER LOW, MED, OR HIGH. THE ACTUAL 'MG' CONTENT OF THE OLDER STYLE LABELS ARE AS FOLLOWS:
LOW = 6MG

MED = 11MG

HIGH = 16MG
SINCE WE STILL HAVE SOME OLDER STYLE LABELED BOTTLES YOU MAY RECEIVE FOR EXAMPLE, A BOTTLE THAT READS AS LOW NICOTINE STRENGTH ON THE BOTTLE LABEL, BUT WITH OUR NEW NICOTINE LEVEL SCALE, IT IS NOW CONSIDERED AS A 'ULTRA LOW' STRENGTH. ANOTHER EXAMPLE WOULD BE AN OLDER LABELED BOTTLE THAT READS HIGH. WITH OUR NEW NICOTINE LEVEL SCALE, IT IS NOW CONSIDERED AS A MED STRENGTH ON OUR SITE.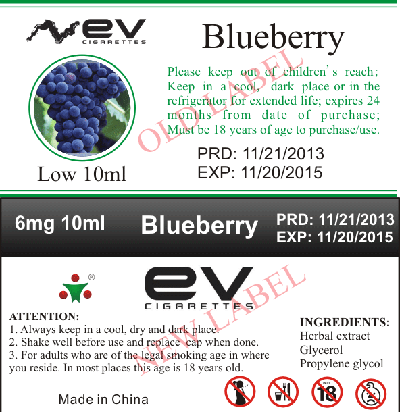 A
Warranty Information
We guarantee all batteries, chargers, Revolution Bodies, and Indulgence V4 Power Switches to be free from defects in material and workmanship under normal use and service for 30 days from the date in which you received your order.

All Atomizers, Cartomizers, and Clearomizers have no warranty and are guaranteed to not be received as DOA (Dead on Arrival) ONLY!

Please note that before shipping, we test each Atomizer's resistance and check for continuity with a multimeter.

We do not check any Cartomizers or Clearomizers (except RiVa-T CE2 Clearomizers) so we suggest that you check for DOAs as soon as you receive your order.

All DOA claims and return requests must be made within 24 hours of receiving your order.

This warranty and Exchange Policy DOES NOT guarantee or replace any products with damage caused by normal/heavy wear and tear, modification of our products, improper setup, use of products bought outside our store/website which causes damage to our product/s, or unintentional/intentional misuse or abuse of our products.

This warranty DOES NOT cover any Cartridges or E-Liquid for safety and sanitary reasons.
Find Similar Products by Category
Product Reviews
5 out of 5 flavor!

Posted by Adri S on 25th Feb 2014

Probably the most satisfying of all mint flavors, plus the sweet fruit aroma gives this Dekang flavor my number one. If you like an intense minty hit, definitely try it out!

---

don't waste your money!

Posted by Unknown on 21st Feb 2014

The only flavored that has made me quit smoking is the strawberry mint, at first I hated it, but now it's the only thing that I will smoke. I buy mine at a local cigar shop and they ran out, so I saw this online. I bought two bottles of this flavor and paid $7 in shipping to get it here quickly. When it finally arrived, I filled up my tank and smoked it and it tasted like wood. It was so awful! I tried a day later and it still tasted awful. I will not being buying liquid here again!

---
Customers Who Viewed This Product Also Viewed